Welcome

Get ready to fuel your career in orthodontics with our mentoring program for AAO members! Join us now to develop personal and professional relationships with other AAO members who have similar areas of interest and expertise. Whether you're a mentor, a mentee, or both, you'll find mentoring to be a rewarding part of your AAO membership.

→ Program Overview
→ How to Sign Up
Find a mentor today!
Discover the perfect resource for your career growth here.

Connect with our mentees!
Share your expertise with those willing and eager to learn.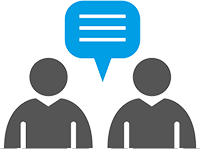 What participants say
"[My mentee] is a great young man. I am honored to have met him through this program. I see us staying friends for years beyond this program."

"When you are beginning your career, it is helpful to have someone with more experience to mentor you and bounce ideas off of. This is a great program and I hope others had the same experience I did."
 
How does the program work?
This online platform is used to establish connections between mentors and mentees and provide resources for the mentoring relationship. Participants complete a profile form upon registration, which collects information on education, professional experience, areas of expertise or learning, and other mentoring preferences. An algorithm extracts this profile information and provides top mentor recommendations to mentees, who can then send mentoring requests to their top choices. A connection between a mentor and mentee is established when a mentor accepts a request. This creates a private connection space for mentoring partners to interact, share files, and set up meetings. Mentoring partners are also encouraged to use several online tools to meet virtually (e.g., email, phone, Skype, etc.) or arrange to meet in-person whenever possible.
There are two options for mentoring:
Ongoing Mentoring: An ongoing mentoring connection is a one-on-one relationship that last for six months in the program. This option is ideal for participants who want to receive or give ongoing personal support for long-term professional goals and cultivate meaningful and mutually beneficial professional relationships. 
One-time Mentoring: A one-time mentoring connection is a single meeting between a mentor and mentee. This is a flexible, short-term option for participants who want to receive or give advice on specific topics or short-term objectives and learn from multiple perspectives. It's also an opportunity to get to know someone before establishing an ongoing mentoring relationship. 

What is the time commitment?
Mentors are asked to keep an active profile for at least one year and commit at least six months to any ongoing mentoring connections. Mentors can also choose whether to offer ongoing or one-time mentoring and set maximum connection limits for each.  For ongoing mentoring, mentors/mentees will be asked to communicate regularly to discuss mentee goals, objectives, and progress. Mentors/mentees should also answer all communications in a timely manner.

Who can participate?
All AAO member orthodontists in good standing are invited to participate. Click
here
for information about how to become a member or renew your membership.